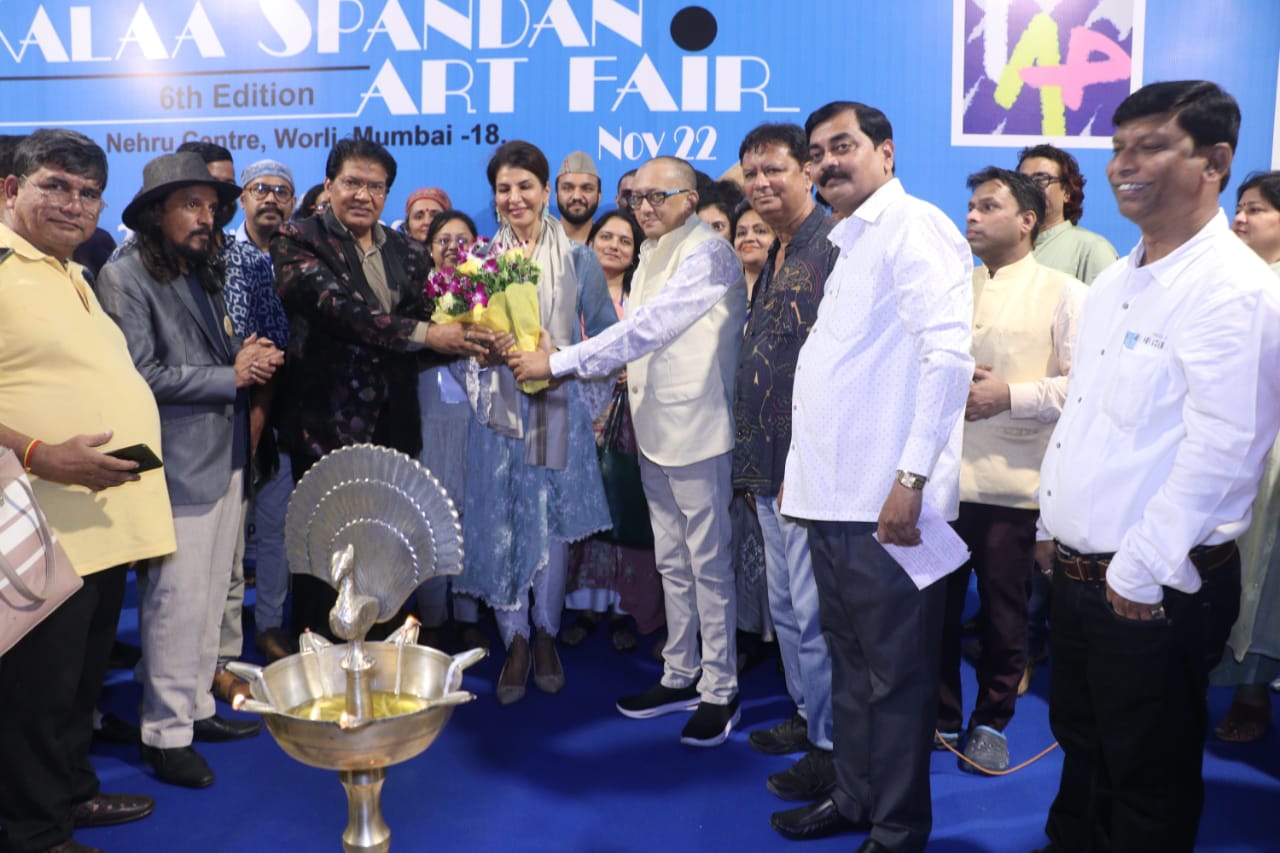 "Kalaa Spandan Art Fair" Nov'22- Mumbai (6th Edition)
Venue:-Ground Floor, Nehru Centre, Worli, Mumbai.
Dates-24th to 27th Nov 2022.
Features-                                                                           A leading International platform for contemporary art designed by Indian Art Promoter for all kinds of artists, sculptors, galleries, photographers, animators, art Institutes,  art stores & art magazines etc.
Exhibitor's Profile-Paintings, Cartoons, Calligraphy, Greetings, Sculptures, Graphics, Digital Prints, Photographs, Installations, Illustrations, Artefacts,  Animations, Recycled & Decorative arts etc.
Visitor's Profile- Professionals, Architects, Interior designers, Collectors, Connoisseurs, Industrialists, Celebrities, VIPs, Hoteliers, Home decorators, Corporates, Jewellers, Exporters, National & International buyers etc.
Approximate footfall is 100 to 150 thousand people.
Advertisement & Campaigns- All major Print media (attached), electronic media like Television & digital media like Facebook, Instagram, LinkedIn, You Tube etc. online event calendars, expo websites, magazines, email blast, banners & VIP invitations to prominent personalities etc.
Timings:-
24th Nov:-Display of artworks-Morning 8 am to 12 pm
Inauguration & VIP Preview-2 pm to 7 pm
25th, 26th & 27th Nov-Morning 11 am to Evening 7 pm (open for public)
 Entry is free for all days.
To register please send email of duly filled up form attached below.
Early Bird Discount up to 31st May 2022 i.e 10%
Last Date of Registration:-15thAug 2022 or until the availability of space.
Last date of Catalogue entries- 15th Sept 2022
Booth Size & Rent (all inclusive)-booth height-approx. 8 ft.
12 Sq. Mt. ( Booth no-12 & 18)-INR 65, 000/-
9 Sq. Mt. – consists of 9 panels of 1 Mt. each-INR 58,000/-
5 Sq. Mt-consists of 7.5 panels of 1 Mt. each-INR 48,000/-
6 Sq. Mt.-consists of 7 panels of 1 Mt. each-INR 45,000/-
4 Sq. Mt. – consists of 6 panels of 1Mt. each-INR 39,000/-
3 Sq. Mt-consists of 5.5 Panels of 1 Mt. each-INR 35,000/-
 Special economy zone-Booth No-70, 76 (A) & 76 (B)-INR 25,000/-
 1 Mt. panel size is height 8ft by width 3.25ft– inside the booth Rs 8000/-.
 Panels outside the booth-P 1 to P 18-INR 7000/- & P 19 to P 32-INR 6500/-
 (No Commission on sale).
 Application fee–
 25% of the total booth rent upto 31st May'22
 50% of the total booth rent from 1st June to 15th Aug'22
 Last date of full & final payment is 15th Sept'22
 Materials provided at the booth (no extra cost):-
1) Carpet
2) Fascia
3) One table, two chairs & one dustbin
4) 2 lights in 4 & 6 Sq. Mt, 3 Lights in 9 & 12 Sq. Mt. booths.
5) One plug point                
6) Hanging S-clamps, strings & manpower for display (as per requirement)
7) Printed/e-catalogue
Only 1 chair & 1 light provided at each panel outside the booth.
Other extra items are chargeable (chart will be provided)
Payment by online transfer only– Contact us for details.
 For any query contact‐
Email- indianartpromoter123@gmail.com or kalaaspandan@gmail.com 
Website– https://indianartfair.net.in  
 WhatsApp-9930193908
 Terms & Conditions–
1.Security will be provided during exhibition & will be taken all precautionary measures but the Organisers cannot be held liable for any loss, theft or damage.
Insurance, transportation, framing expenses, storage & breakage etc. will be the sole responsibility of the exhibitors. Taxes of sold artworks & logistic expenses if any, has to be paid by the exhibitors.
Application fee is non-refundable. Booth rent once paid can't be cancelled. If full payment is not received within the due date then the amount paid will be forfeited & the space will be used by the organiser's discretion. The Organiser reserves the right to alter the floor layout, location of the allocated space, shape of the booth & entry/exit gate etc. if circumstances demand.
Organizer will not be responsible if the show is cancelled/abandoned/suspended fully or in part due to any unto‐ward incident beyond organiser's control or deed of God etc. In such cases the organiser will repay the booth rent (except application fee) after deducting all expenses occurred from the announcement of the show till date or adjust in the next exhibition. No refund of rent (full or partial) will be entertained in any circumstances.
Selection & display of the artworks/photographs at the sole discretion of the organizer & no copy work will be allowed to display. No previous award discount is applicable.
Organiser will do the publicity according to the budget, capacity & feasibility but cannot be made responsible for footfall/sale etc. due to any unavoidable situation beyond organiser's control.
All the above mentioned features may be altered or cancelled anytime at the sole discretion of the organizer.
The Exhibitors have to obtain casual or permanent GST number for conducting sales.
Credit/Debit card swipe machine has to be brought/arranged by the exhibitors if needed.
All disputes are subject to Thane Jurisdiction only.
 REGISTRATION FORM
I/We would like to register for booth at "Kalaa Spandan Art Fair" Nov 2022 & agree to abide by the terms & conditions of the fair.
Name of the
Exhibitor:___________________________________________
Address: ___________________________________________
________________________________________
Tel/Mobile number:_____________________________________________
Email id:_____________________________________________
Application for booth size & number:_______________________________________________
Name of Fascia:_______________________________________________
Artworks categories to be displayed: (Paintings/Cartoons/Sculptures/Graphics/Digital Prints/Photographs/Installations/Illustrations/Animations/Art materials/Magazines/Institutes/Artefacts/ Decorative arts/Recycled arts).
N.B.-Please attach complete profile (word format) along with profile picture & two images of artworks/photographs (high resolution jpeg format) along with this form.
Name & Signature of the exhibitor